18 month work implementation is paying off
In our mid-term review we received congrats on the progress by our BBI JU project officer Ana Ruiz for the work that has been done during the first 18 month, despite some delays caused by lab lockdowns across Europe and travel restrictions
Unfortunate this meeting had to happen online due to the ongoing travel restrictions, but nevertheless we spend a pleasant day discussing and showing for hours the work implementation to the EC and the evaluators.
SMARTBOX main project impacts during its first 18 month concluded in
Engineered highly robust strains and there is continuous development for further improvement
Successful technology transfer and pilot production of the enzyme and conversion at TRL 5
Successful conversion of HMF to FDCA
Successful implementation of the Fresco computation tool to design thermostable proteins
Basic Design phase and tender for detailed engineering and construction of the mini pilot reactor set up
Implementation of goal and scope definition of the TEA and LCA
All deliverables and milestones were achieved with minor delays, fulfilling the project objectives
Let's enter the 2nd stage to develop biobased fusion technology pathways from enzyme engineering over biotech to end user application.
February 2021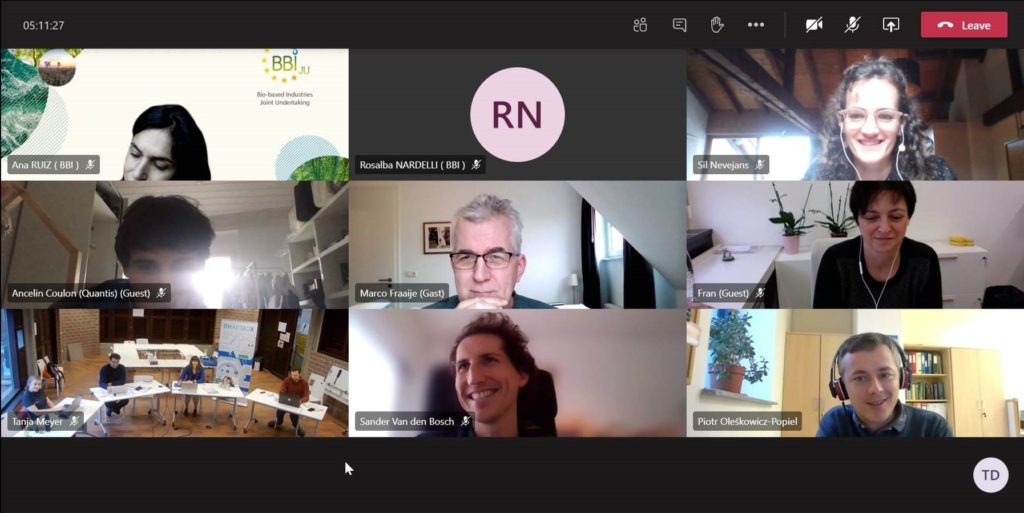 Virtual Partner meeting for 18 month joint collaboration
Even some new non-technical worldwide challenges had to be overcomed in the last couple of month, SMARTBOX is still on a good way to find sustainable ways to valorize lignin. As presented during the 4th Project Meeting (17/11/2020) that took place this week, all partners shared enthusiastically their latest advances and progresses they made.
Partner commented that it was gratifying to see the chain from enzyme engineering to a product seems to be successful for the HMF>FDCA reaction.
Yes, we believe in its potential!
Never stop the conversation and underestimate the team spirit working towards the same Sustainable Development Goals by enabling bio based chains for new innovations within the bio economy.
SMARTBOX also welcomed some new faces that joined recently and will become quickly integrated into the SMARTBOX Family and its Spirit.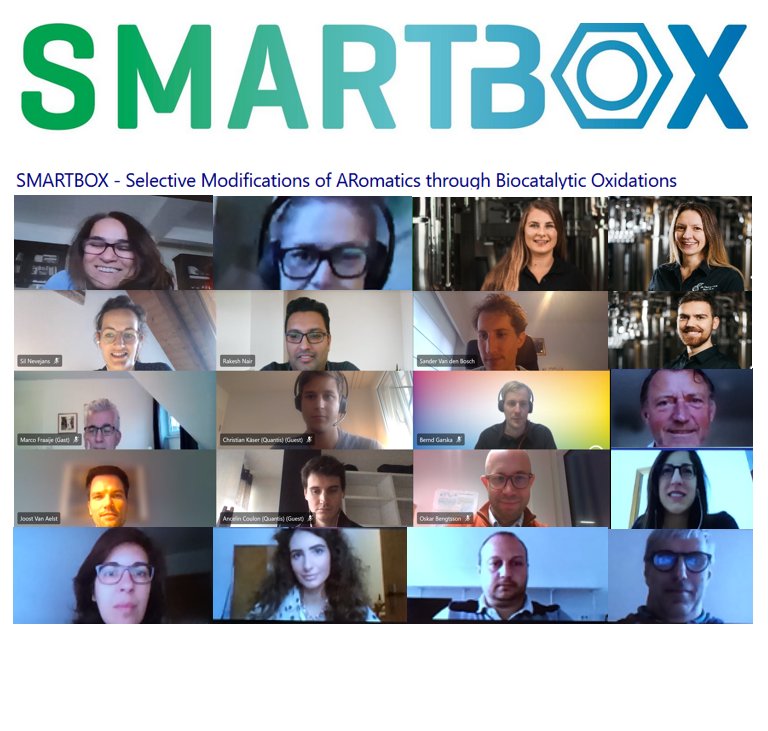 The 3rd progress meeting in online form!
Meeting face-to-face in corona times? Why not?
We held our progress meeting over 2 half days (18.-19. May) online and it was a complete success. Our time was used very efficiently and not only we managed only little technical hurdles together, but even we shared some good real laughs.
The core topics on the agenda were the progress in computational enzyme engineering, process development and in reductive catalytic fractionation. Computational enzyme engineering was presented by Zymvol, University of Groningen, ITQB and Uni Pavia. The process development progress in the production of the first product, FDCA, was reported by BBEPP with promising results. KU Leuven presented the current results of RCF and the optimization as well as scale up thereof.
Although we were all efficient and satisfied with the exchange on the technical work, we are also looking forward to deepening our talks again face-to-face in person. Hopefully for the next meeting. In the meantime the SMARTBOX Team wishes that you all stay safe and healthy!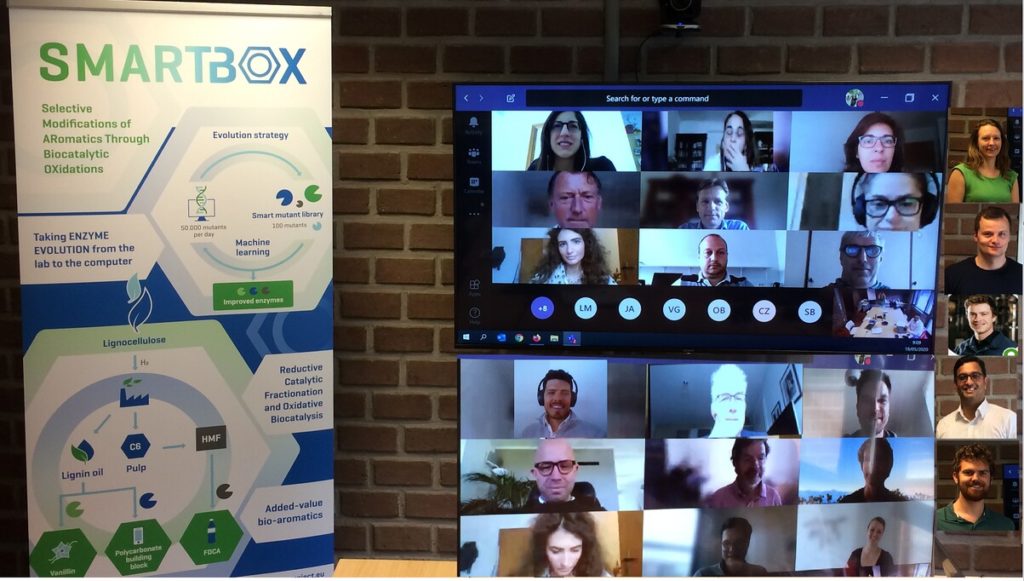 Italian Uni Pavia welcomes partner for the 2nd project meeting
In the wonderful city of Pavia, 35 km south of Milan, a comune in the south-western Lombardy in northern Italy, the partner University of Pavia welcomed to the 2nd project meeting on a sunny day Thursday 17/10/2019 for a two day meeting.
On the agenda especially the progress towards the platform development was discussed. Represented by University of Groningen, Zymvol, ITQB and Uni Pavia itself. Technology Transfer and Process Optimisation towards FDCA has been presented by BBEPP. The work implementation towards process development for the intermediates through RCF has been shown by KU Leuven. First consideration on life-cycle-assesment for the processes were not to be missed and presented by Quantis.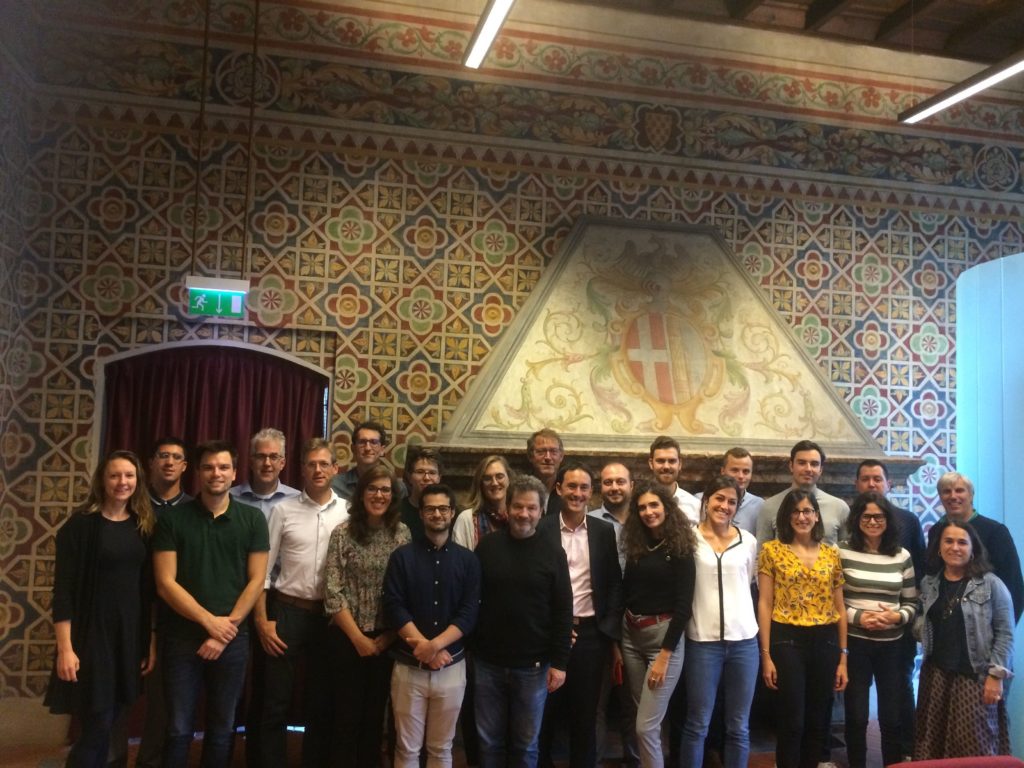 Greentech pioneer AVA Biochem teams-up with Michelin Group to foster eco-innovation
AVA Biochem AG in Zug, Switzerland has developed, patented and piloted a fully water-based process for the conversion of industrial sugars into the 100% bio-based molecule 5-HMF. This platform chemical is ideally positioned to replace petroleum-sourced chemicals in various mass-market applications, due to its versatility, non-toxicity and bio-sourcing. Applications include biopolymers (such as yarns, films, bottles and other packaging) as well as resins and adhesives, where 5-HMF replaces highly toxic formaldehyde.
With the common goal to further implement 5-HMF in various materials and chemical applications, AVA Biochem has entered into a Joint Development Agreement with the Michelin Group.
Please find more information in AVA Biochem's full press release (31/01/2020).
Partner ZYMVOL receives 1,3 M€ from EC for an SME Instrument Grant
ZYMVOL Biomodeling S.L has been awarded with 1,3M€ from European Commission H2020 program SME Phase2, to develop the project, "UNLOCK-EDD: UNLOCK next generation computer guided Enzyme Discovery & Design", focused on continuing technological improvement, development of a new pipeline for enzyme kits and starting the development of proprietary enzyme production.
ZYMVOL Biomodeling SL is a privately funded company specialized in in silico enzyme engineering. Founded in May 2017, the company currently has customers in Chemical, Pharmaceutical, Food and Biotech sectors and is actively engaged in highly innovative and competitive R&D activities.
Check the full press release here: Full press release
More info about ZYMVOL: www.zymvol.com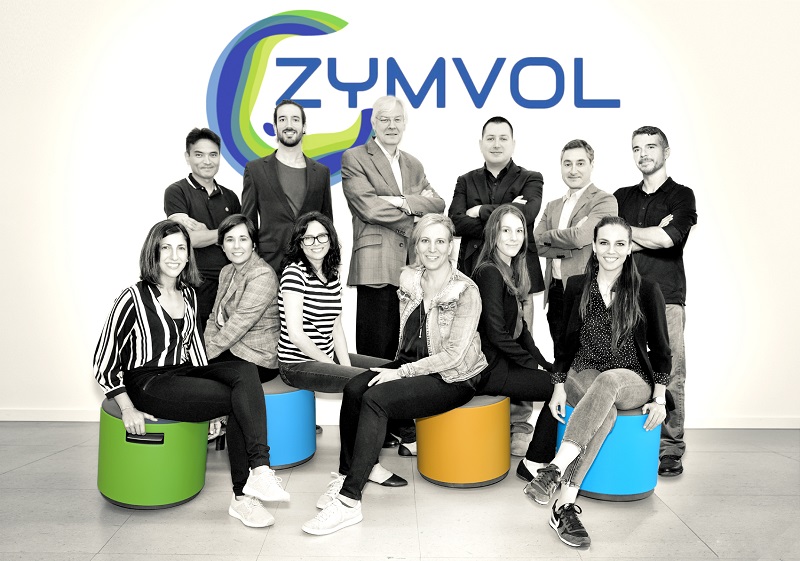 SMARTBOX kick-off activites for the next 4 years
Glad to receive our partners for our brand new BBI Project SMARTBOX at the coordinators facility Bio Base Europe Pilot Plant in Ghent.
On the 9.-10. May 2019 all 11 partners met to kick-off the activities for SMARTBOX.
SMARTBOX stands for Selective Modifications of ARomatics through Biocatalytic Oxidation.
Our joint goal is to make breaktrough developments for oxidative enzymes. Although they have the potential to improve the economic and environmental sustainability of biorefineries, they have not experienced a complete come out yet in the biobased industries.
Keep in touch to stay informed in our LinkedIn Group: Click here