Check out our latest work on engineering NOV1, a dioxygenase able to oxidase lignin-derived monomers🌱
June 2022
Hybrid project meeting in 2021 – 6th project meeting
🎉 It has been great getting together again with all the SMARTBOX Project partners for the 6th project meeting in a hybrid manner in the second week of November (08.-09. Nov 2021) organised at the Bio Base Europe Pilot Plant in Ghent, Belgium
🌱 At SMARTBOX Project we're all participants from 8 European countries working together on sustainable ways to valorize #lignin, and thus contributing to the Sustainable Development Goals of the United Nations.
How do we do this?
✔️ Applying computational enzyme engineering
✔️ Creating added-value bio-aromatics
✔️ Setting-up a lignin-first biorefinery at pilot-scale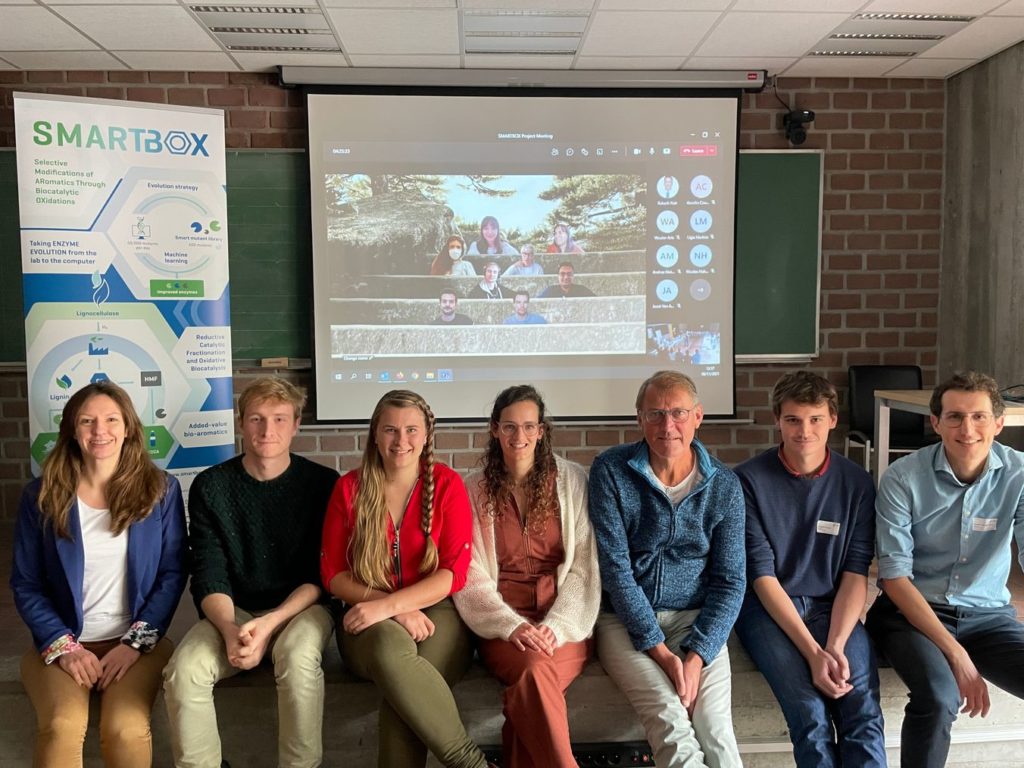 November 2021
SMARTBOX presents at WoodZymes Final workshop
BBI JU funded project SMARTBOX and others will present the approach they are following to achieve full exploitation of lignocellulose biomass.
The final event of the WoodZymes project will be held online on November 4th 2021 to present the main achievements and conclusions attained towards full exploitation of lignocellulose. It will also count with participation of UNRAVEL and SMARTBOX, two related BBI JU funded projects dealing with plant biomass valorisation.
The WoodZymes project, a Research & Innovation Action funded by the Bio-Based Industries Joint Undertaken (BBI JU), will conclude next November after three and half years of collaboration between eleven European institutions and companies coordinated from the Centre for Biological Research Margarita Salas (CIB) of the Spanish National Research Council (CSIC). In a final online event to be held on November, 4th, the main achievements and conclusions attained in the project will be shown, together with an overview of two related BBI JU funded projects (UNRAVEL and SMARTBOX) dealing with valorisation of lignocellulose components by different approaches. A general outlook of the overall achievements and perspectives of the BBI JU initiative will be also presented.
The feasibility of this ambitious project has been based on the collaborative work of a strong European consortium from Portugal, France, Finland and Spain, formed by world-leading companies of the sectors of pulp & paper (The Navigator Company and Fibre Excellence), fibreboard manufacture (FINSA France) and insulation materials (Soprema), a biotech SME commercializing enzymes for biomass conversion (MetGen) and several research institutes (CIB, IRNAS and IATA from CSIC) and technology centres (RAIZ, CTP and FCBA) of the wood, cellulose, lignin and enzyme sectors.
This online webinar has been organized by WoodZymes partner FCBA in collaboration with the Coordination Team from CIB-CSIC.
Link to download the workshop program: Woodzymes final workshop progam 4 Nov 2021.pdf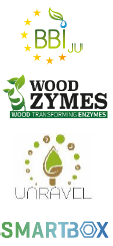 October 2021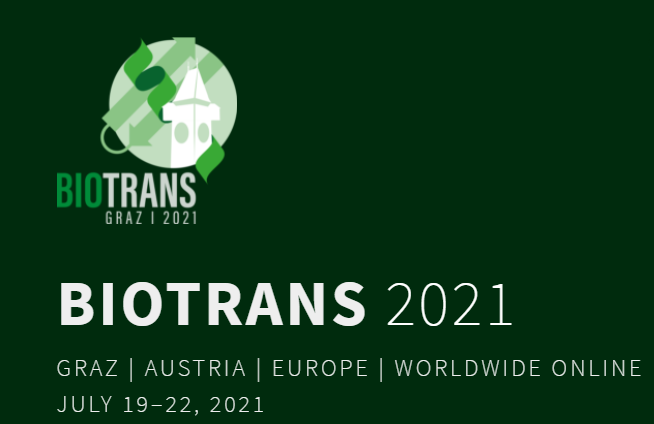 October 2021
Partners pitched results at the Pitch Perfect Event
The first physical meeting again after 2 years with almost half of the partners thanks to the "Pitch Perfect and Boost the European Bioeconomy 2021" event that took place in Brussels last week. There we welcomed BBEPP, KU Leuven, B4Plastics and Zymvol flying in from Spain!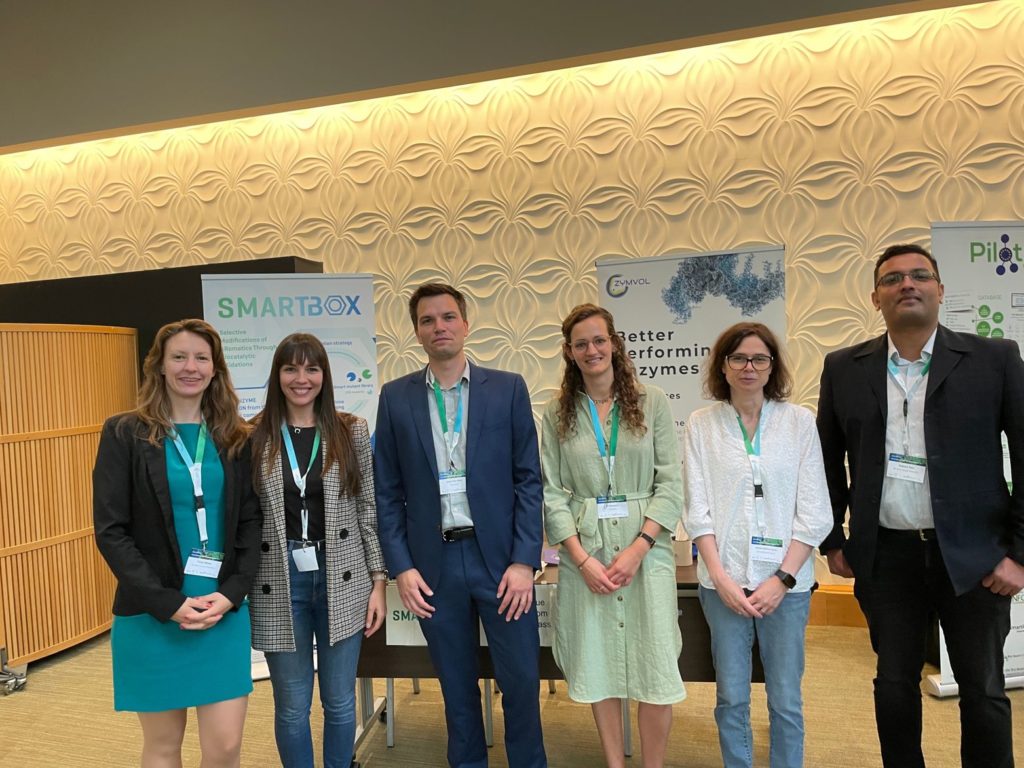 The overall goal of Smartbox was presented in the introduction part in the morning session in front of an audience of 170 participants coming from all over Europe!
In the afternoon session 3 of our partners pitched proudly about their business and work achieved within the SMARTBOX Project and their further development of the bioeconomy.
B4Plastics, Belgium, Sil Nevejans: "B4Plastics – Redesigning tomorrow's plastics. Today."
Zymvol Biomodeling SL, Spain, Lur Alonso Cotchico: "In Silico Engineering of Oxidative Enzymes Applied to Lignin Revalorization Processes"
KU Leuven, Belgium, Joost Van Aelst: "BioCon pilot platform – upscaling lignin-first biorefinery"
SMARTBOX Project was one of the co-organisers of joint pitching, matchmaking, and networking event: "Pitch Perfect and Boost the European Bioeconomy 2021", held in Brussels on September 28th, 2021 from 10am-5pm. This event brought together the networks of six important bioeconomy platforms: Pilots4U, Tech4Biowaste, BioeconomyVentures, Smartbox, Waste2Func and Bio Base Connect.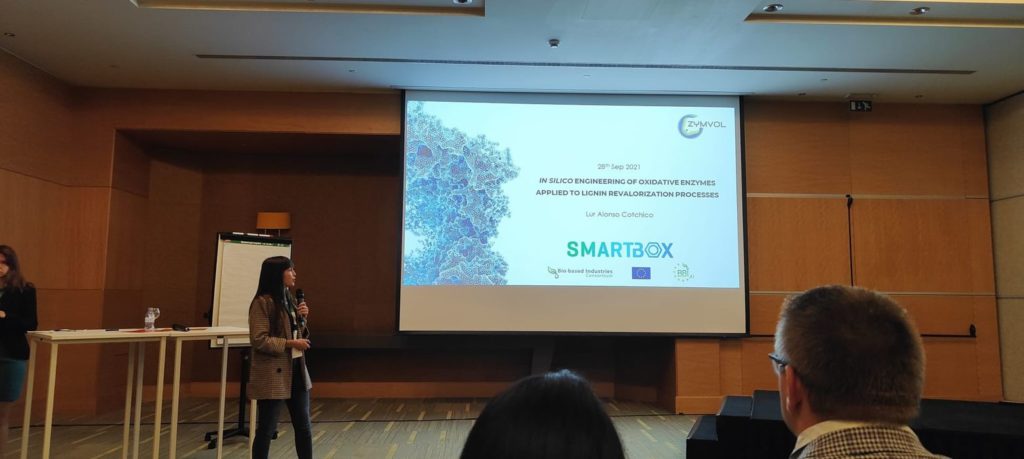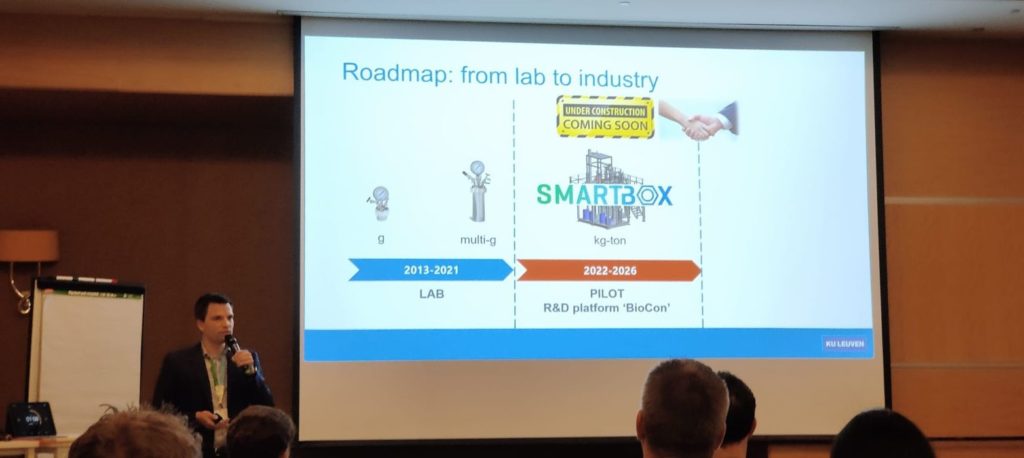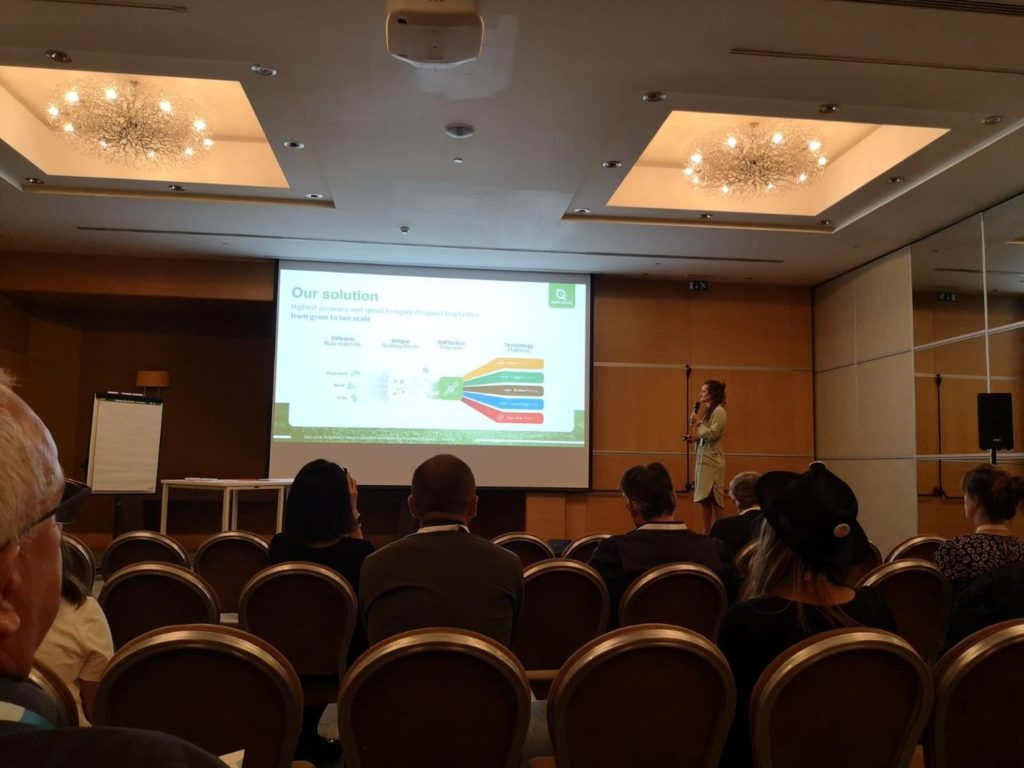 September 2021
"Sharper night" in Pavia
Researchers from different fields speak about a scientific topic of interest to a mixed audience.
Smartbox was presented by Laura Alvigni from University of Pavia with a live presentation in Pavia on 24th October 2021. Laura presented in general about what SMARTBOX is, what its impact is and what University of Pavia and her work field are in the laboratory. Below a picture of her on stage: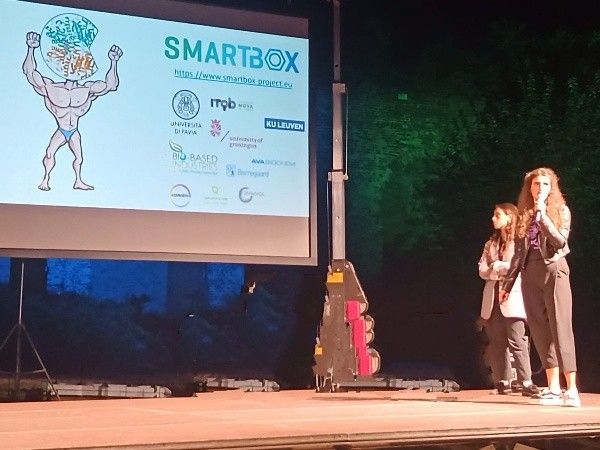 September 2021
Co-organisation of the Pitch Perfect and Boost the European Bioeconomy 2021 in Brussels
SMARTBOX Project will be one of the co-organisers of the proudly presented joint pitching, matchmaking, and networking event: "Pitch Perfect and Boost the European Bioeconomy 2021", to be held in Brussels on September 28th, 2021 from 10 am – 5 pm.
This event brings together the networks of six important bioeconomy platforms: Pilots4U, Tech4Biowaste, BioeconomyVentures, Smartbox, Waste2Func and Bio Base Connect. As such, we can guarantee a diverse attendance reaching from investors, SMEs, start-ups, scale-ups, large companies, research organisations, technology providers to organisations offering relevant innovation services such as access to finance, scale-up trials, application testing, business plan writing, feedstock analysis, life cycle assessment, social acceptance, etc.
Participants are invited to submit a pitch application for a 6 minutes pitch. As we are organising 6 pitch sessions of 90 minutes each, we are looking for at least 66 inspiring pitches. Not to exclude any interesting developments, pitch categories are not defined upon registration but should be relevant for further development of the bioeconomy.
The matchmaking are one-on-one meetings of 15 minutes aimed at finding new partners. The scheduling of these meetings will be supported by an online matchmaking system, easy to use on a smartphone or laptop.
More information and registration: Pitch Perfect and Boost the European Bioeconomy 2021 | Pilots4U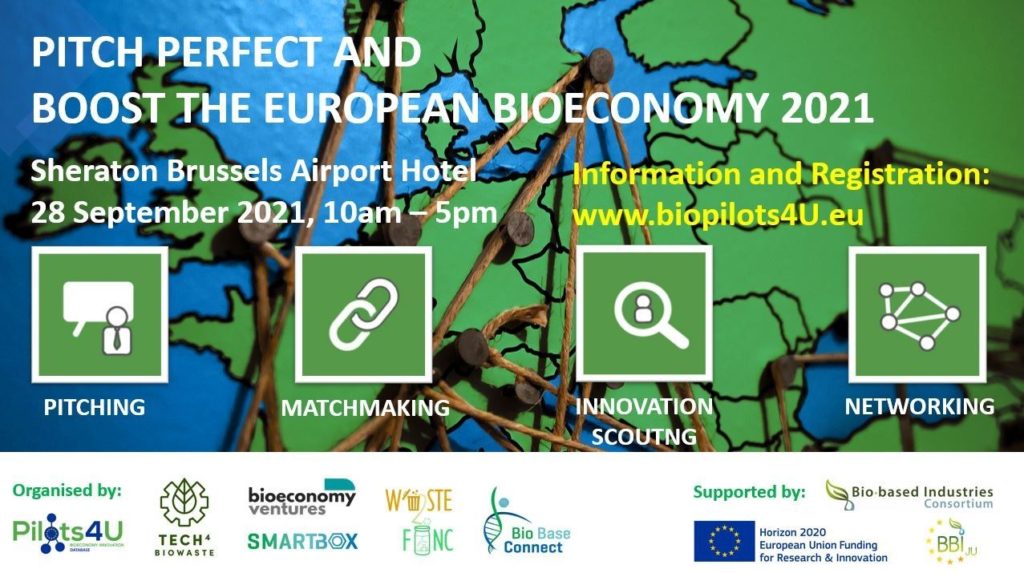 August 2021
Partner Rijksuniversiteit Groningen at Biotrans 2021 Graz conference
Marco Fraaije University Professor at Groningen (RUG) spoke at the Biotrans 2021 Graz conference, where he presented some results on the computational engineering of HMF oxidase which are in the focus of the SMARTBOX Project.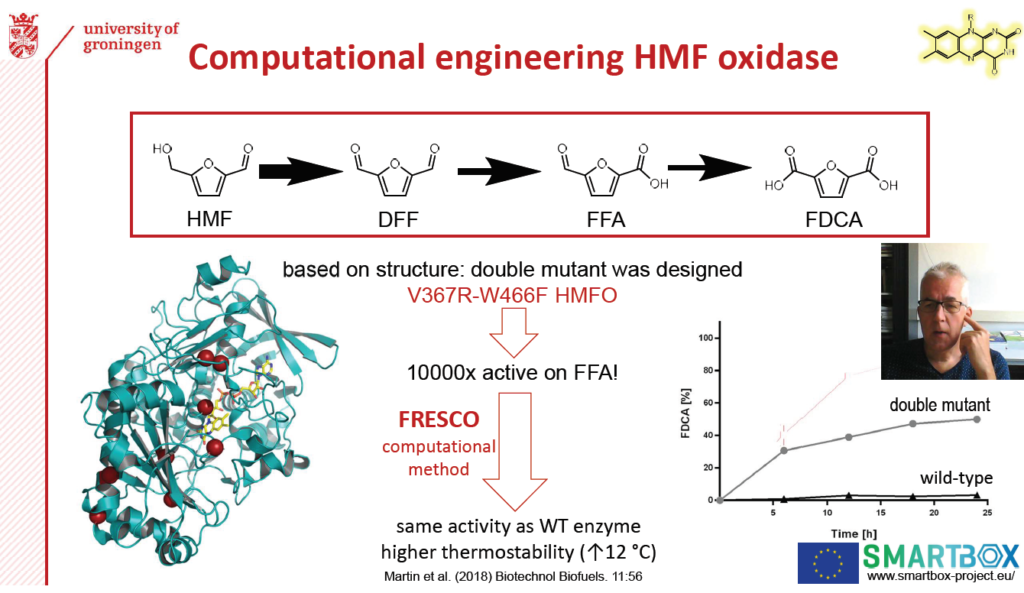 KU Leuven and MTSA Technopower finalising detailed design
We are proud to communicate that, following a public procurement procedure, KU Leuven has started, in January 2021, a collaboration with MTSA Technopower for the detailed design and construction of a prototype lignin-first biorefinery pilot-scale installation.
Currently, the detailed design documents of the pilot are undergoing final revisions. Procurement has started, followed by construction and factory acceptance testing, all in 2021. The installation is planned to become operational in the first quarter of 2022 and will be hosted at TRANSfarm, a KU Leuven core facility that supports research groups to scale up their lab expertise to pilot scale in the broad area of circular bio-economy (https://set.kuleuven.be/over-ons/groepsdiensten-en-faciliteiten/transfarm).
Full information: Lignin-first biorefinery at pilot-scale: KULeuven and MTSA Technopower finalising detailed design
June 2021
KU Leuven RCF technology presented in CIC2021 Event Serie III
KU Leuven presents: "Lignocellulose biomass as sustainable resource: upscaling of the reductive catalytic fractionation technology" where also SMARTBOX activities are part of.
May 27th 1-4 pm
Registration on LinkedIn
May 2021
General Project Video available
Enjoy the journey and discover on the way products in the supermarket, problems with fossil fuel, "lignin mortar", the three pillars of the project, and some technical background to the terms of "Reductive Catalytic Fractionation" , "oxidative biocatalysis" and the advantages of a handy enzyme toolbox.
What will be inside your box? – Fill it up with sustainable and bio-based products
May 2021
2 years of work collaboration – 5th Project meeting
Life is beautiful not because of the things we see or do.

Life is beautiful because of the people we meet.

– Simon Sinek
SMARTBOX people have met to our 5th project meeting online in the last week of April 2021.
 A lot of information on the progress has been shared. Partners not only shared their newest progress on enzyme developments, identified new mutants, simulations and fermentation runs. There were some vivid discussions on publications, patents and innovation pathways within partners from academia and industrial end-users.
Beautiful was also our social lunch activity, when we discovered together each other's preferences on chocolates, wines and landscapes within the wonderroom tool.
April 2021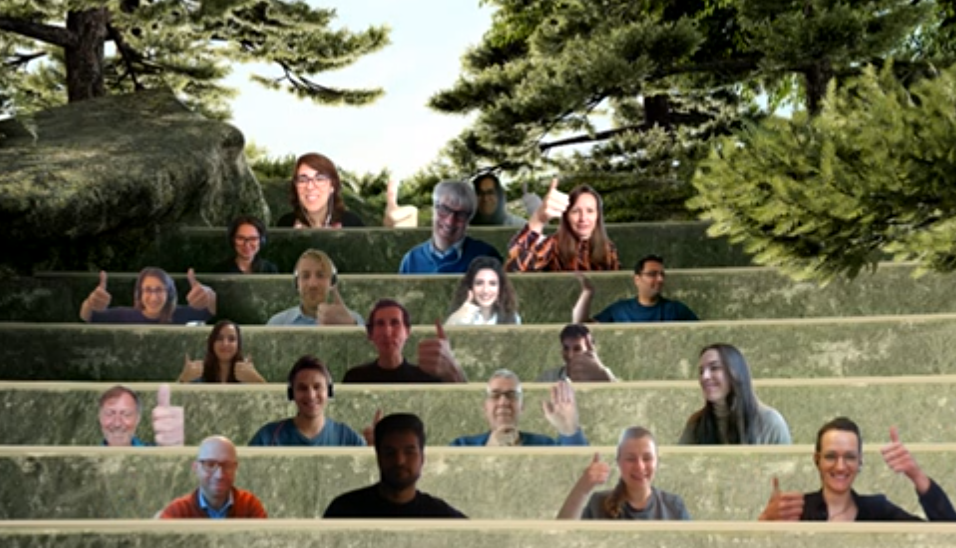 Publication on RCF of pine wood by partner KUL
Partner KUL publishes an article with the title "Reductive catalytic fractionation of pine wood: elucidating and quantifying the molecular structures in the lignin oil. "
Published in Royal Society of Chemistry, Chemical Science; 2020; Vol. 11; iss. 42; pp. 11498 – 11508
Abstract:
In-depth structural analysis of biorefined lignin is imperative to understand its physicochemical properties, essential for its efficient valorization to renewable materials and chemicals. Up to now, research on Reductive Catalytic Fractionation (RCF) of lignocellulose biomass, an emerging biorefinery technology, has strongly focused on the formation, separation and quantitative analysis of the abundant ligninderived phenolic monomers. However, detailed structural information on the linkages in RCF lignin oligomers, constituting up to 50 wt% of RCF lignin, and their quantification, is currently lacking. This study discloses new detailed insights into the pine wood RCF lignin oil's molecular structure through the combination of fractionation and systematic analysis, resulting in the first assignment of the major RCFderived structural units in the 1H–13C HSQC NMR spectrum of the RCF oligomers. Specifically, b-5 g-OH, b-5 ethyl, b-1 g-OH, b-1 ethyl, b-b 2x g-OH, b-b THF, and 5-5 inter-unit linkages were assigned unambiguously, resulting in the quantification of over 80% of the lignin inter-unit linkages and end-units.
Detailed inspection of the native lignin inter-unit linkages and their conversion reveals the occurring hydrogenolysis chemistry and the unambiguous proof of absence of lignin fragment condensation during proper RCF processing. Overall, the study offers an advanced analytical toolbox for future RCF lignin conversion and lignin structural analysis research, and valuable insights for lignin oil valorization purposes.
Please find more information on Limo LIBISnet Infopage
March 2021
Publication on overcoming scale-up hurdles for the RCF of lignocellulose biomass
Partner KUL publishes an article with the title "Perspective on Overcoming Scale-Up Hurdles for the Reductive Catalytic Fractionation of Lignocellulose Biomass."
Published in Industrial & Engineering Chemistry Research; 2020; Vol. 59; iss. 39; pp. 17035 – 17045
Abstract:
In the last five years, reductive catalytic fractionation of lignocellulose biomass has emerged as a promising biorefinery concept that combines biomass fractionation with the preservation of chemical functionality in its products. Although significant efforts have been made in optimizing this technology on lab scale, the implementation on a larger (pilot) scale is still in its infancy. In our own search for the scale-up potential of this technology, we faced several fundamental and technical research questions that, to this day, remain unanswered. These fundamental questions are related to four main aspects of RCF, the lignocellulose feedstock, the operating pressure, the redox catalyst and the solvent. In order to inspire future multidisciplinary research in the RCF community, these scale-up challenges are presented and discussed via multiple angles combining chemical process hurdles with more technical aspects, such as reactor design and process consequences.
Please find more information on Limo LIBISnet Infopage
March 2021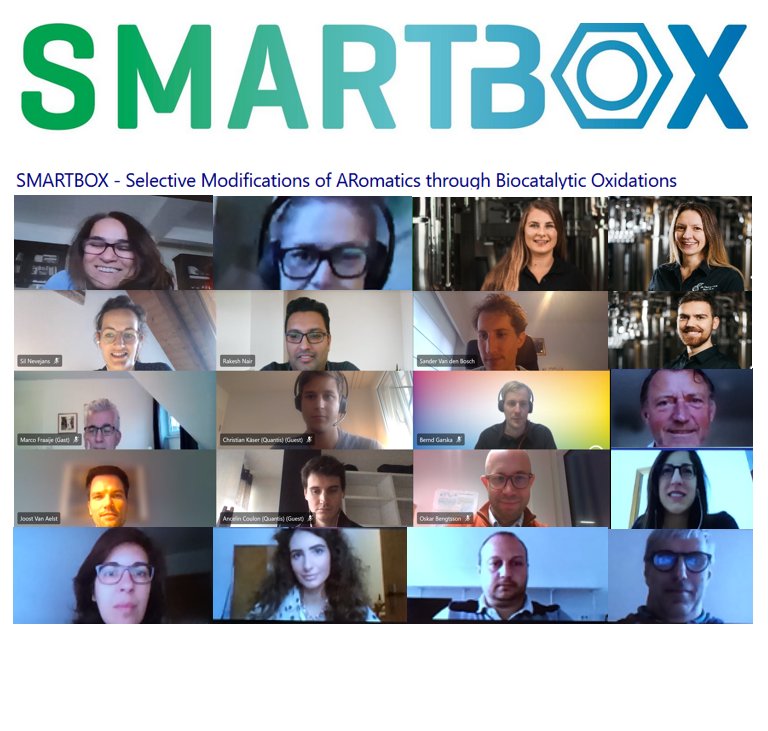 18 month work implementation is paying off
In our mid-term review we received congrats on the progress by our BBI JU project officer Ana Ruiz for the work that has been done during the first 18 month, despite some delays caused by lab lockdowns across Europe and travel restrictions
Unfortunate this meeting had to happen online due to the ongoing travel restrictions, but nevertheless we spend a pleasant day discussing and showing for hours the work implementation to the EC and the evaluators.
SMARTBOX main project impacts during its first 18 month concluded in
Engineered highly robust strains and there is continuous development for further improvement
Successful technology transfer and pilot production of the enzyme and conversion at TRL 5
Successful conversion of HMF to FDCA
Successful implementation of the Fresco computation tool to design thermostable proteins
Basic Design phase and tender for detailed engineering and construction of the mini pilot reactor set up
Implementation of goal and scope definition of the TEA and LCA
All deliverables and milestones were achieved with minor delays, fulfilling the project objectives
Let's enter the 2nd stage to develop biobased fusion technology pathways from enzyme engineering over biotech to end user application.
February 2021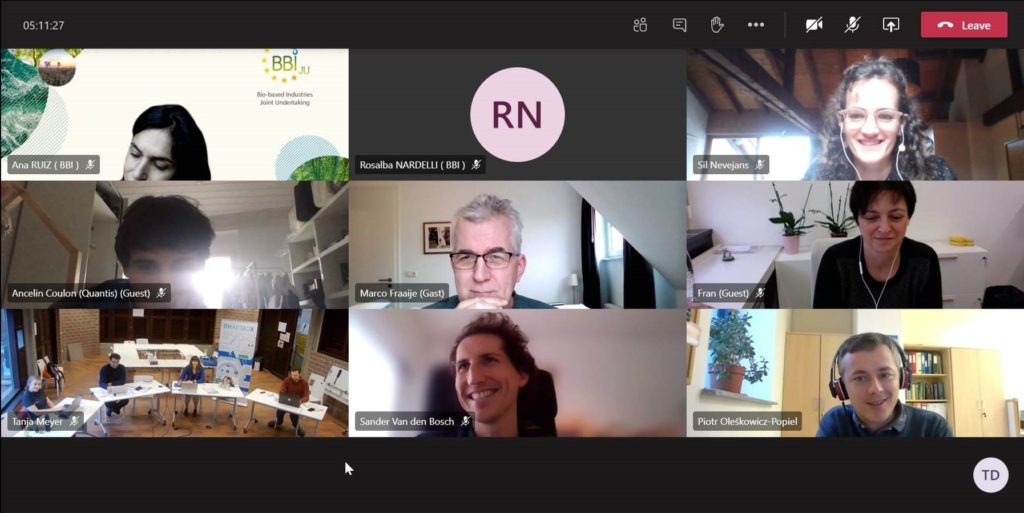 Virtual Partner meeting for 18 month joint collaboration
Even some new non-technical worldwide challenges had to be overcomed in the last couple of month, SMARTBOX is still on a good way to find sustainable ways to valorize lignin. As presented during the 4th Project Meeting (17/11/2020) that took place this week, all partners shared enthusiastically their latest advances and progresses they made.
Partner commented that it was gratifying to see the chain from enzyme engineering to a product seems to be successful for the HMF>FDCA reaction.
Yes, we believe in its potential!
Never stop the conversation and underestimate the team spirit working towards the same Sustainable Development Goals by enabling bio based chains for new innovations within the bio economy.
SMARTBOX also welcomed some new faces that joined recently and will become quickly integrated into the SMARTBOX Family and its Spirit.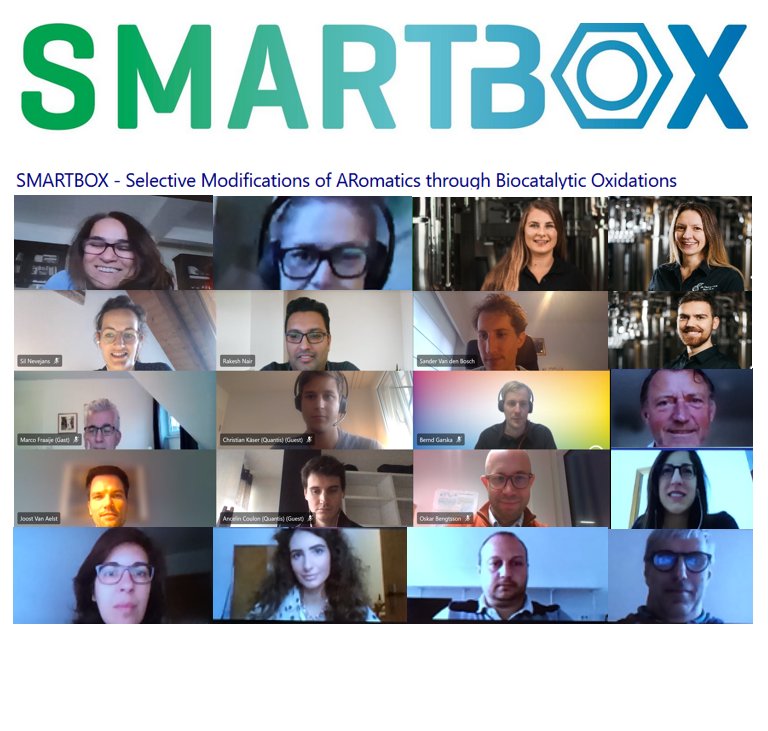 The 3rd progress meeting in online form!
Meeting face-to-face in corona times? Why not?
We held our progress meeting over 2 half days (18.-19. May) online and it was a complete success. Our time was used very efficiently and not only we managed only little technical hurdles together, but even we shared some good real laughs.
The core topics on the agenda were the progress in computational enzyme engineering, process development and in reductive catalytic fractionation. Computational enzyme engineering was presented by Zymvol, University of Groningen, ITQB and Uni Pavia. The process development progress in the production of the first product, FDCA, was reported by BBEPP with promising results. KU Leuven presented the current results of RCF and the optimization as well as scale up thereof.
Although we were all efficient and satisfied with the exchange on the technical work, we are also looking forward to deepening our talks again face-to-face in person. Hopefully for the next meeting. In the meantime the SMARTBOX Team wishes that you all stay safe and healthy!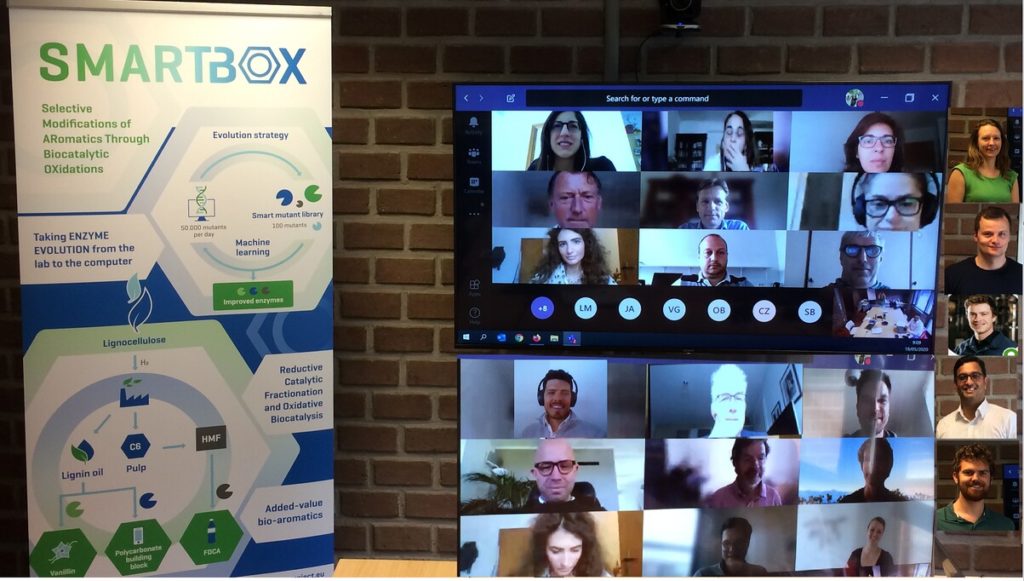 Italian Uni Pavia welcomes partner for the 2nd project meeting
In the wonderful city of Pavia, 35 km south of Milan, a comune in the south-western Lombardy in northern Italy, the partner University of Pavia welcomed to the 2nd project meeting on a sunny day Thursday 17/10/2019 for a two day meeting.
On the agenda especially the progress towards the platform development was discussed. Represented by University of Groningen, Zymvol, ITQB and Uni Pavia itself. Technology Transfer and Process Optimisation towards FDCA has been presented by BBEPP. The work implementation towards process development for the intermediates through RCF has been shown by KU Leuven. First consideration on life-cycle-assesment for the processes were not to be missed and presented by Quantis.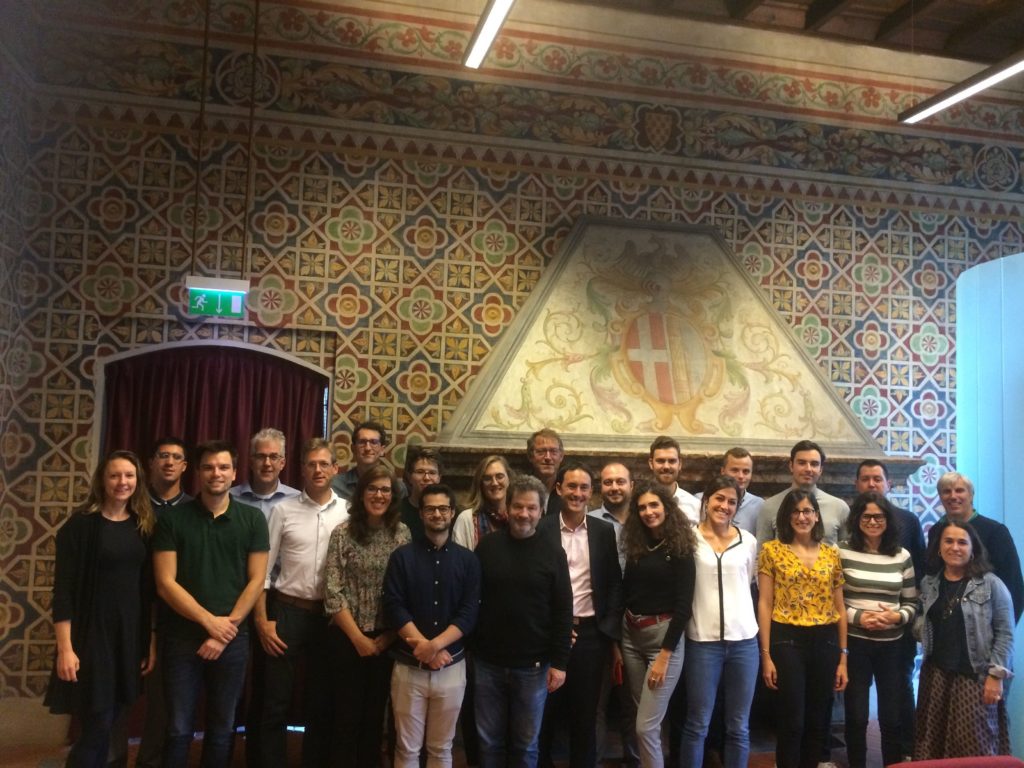 Greentech pioneer AVA Biochem teams-up with Michelin Group to foster eco-innovation
AVA Biochem AG in Zug, Switzerland has developed, patented and piloted a fully water-based process for the conversion of industrial sugars into the 100% bio-based molecule 5-HMF. This platform chemical is ideally positioned to replace petroleum-sourced chemicals in various mass-market applications, due to its versatility, non-toxicity and bio-sourcing. Applications include biopolymers (such as yarns, films, bottles and other packaging) as well as resins and adhesives, where 5-HMF replaces highly toxic formaldehyde.
With the common goal to further implement 5-HMF in various materials and chemical applications, AVA Biochem has entered into a Joint Development Agreement with the Michelin Group.
Please find more information in AVA Biochem's full press release (31/01/2020).
Partner ZYMVOL receives 1,3 M€ from EC for an SME Instrument Grant
ZYMVOL Biomodeling S.L has been awarded with 1,3M€ from European Commission H2020 program SME Phase2, to develop the project, "UNLOCK-EDD: UNLOCK next generation computer guided Enzyme Discovery & Design", focused on continuing technological improvement, development of a new pipeline for enzyme kits and starting the development of proprietary enzyme production.
ZYMVOL Biomodeling SL is a privately funded company specialized in in silico enzyme engineering. Founded in May 2017, the company currently has customers in Chemical, Pharmaceutical, Food and Biotech sectors and is actively engaged in highly innovative and competitive R&D activities.
Check the full press release here: Full press release
More info about ZYMVOL: www.zymvol.com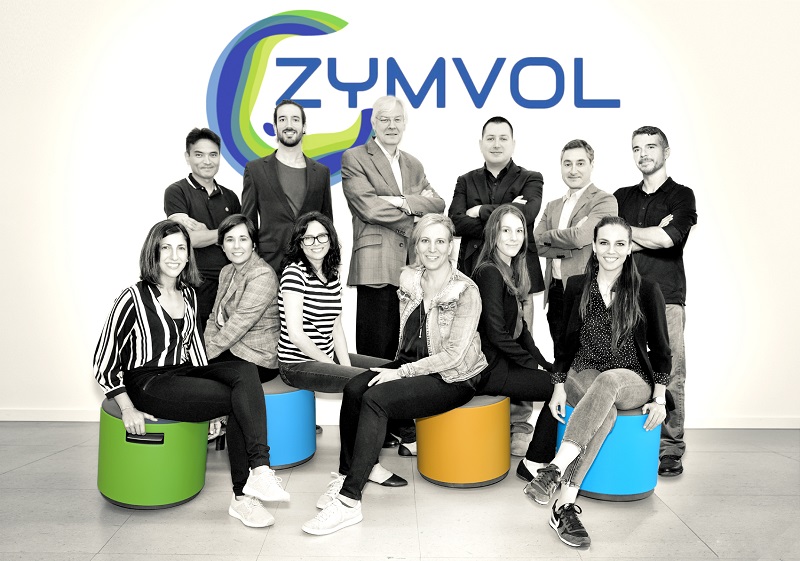 SMARTBOX kick-off activites for the next 4 years
Glad to receive our partners for our brand new BBI Project SMARTBOX at the coordinators facility Bio Base Europe Pilot Plant in Ghent.
On the 9.-10. May 2019 all 11 partners met to kick-off the activities for SMARTBOX.
SMARTBOX stands for Selective Modifications of ARomatics through Biocatalytic Oxidation.
Our joint goal is to make breaktrough developments for oxidative enzymes. Although they have the potential to improve the economic and environmental sustainability of biorefineries, they have not experienced a complete come out yet in the biobased industries.
Keep in touch to stay informed in our LinkedIn Group: Click here